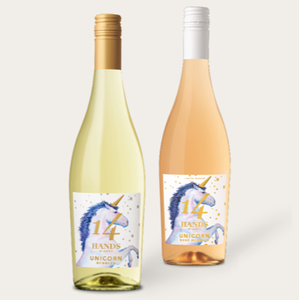 Five Eight Liquors
14 Hands Unicorn Bubbles
Regular price
$14.29
$0.00
Perfect for an afternoon picnic, an evening of sunset gazing, a night of binge watching your favorite series or any other occasion where fun is about to happen with family and friends.
Bubbles: This fresh and lively wine reveals aroma of white stone fruits and citrus, complemented by light floral notes. Flavors of pear, melon and lemon zest are balanced by crisp acidity, ending with a vibrant finish.
Rosé Bubbles: Take a break from reality with a dreamy Rosé that's as enchanting as its mythical namesake. Elegant aromas of cranberry, cherry, and pomegranate weave a captivating tale that concludes with a juicy, effervescent twist.
---
More from this collection