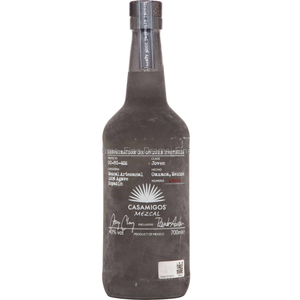 Five Eight Liquors
Casamigos Mezcal
Regular price
$65.99
$0.00
AGAVE: Our agaves are 100% Espadín, grown for 8-9 years in Oaxaca, Mexico
SLOW COOKING: Casamigos Mezcal is made using the traditional method. Once harvested, the piñas are split and laid to cook for 4–6 days in six-ton earthen pits lined with volcanic rock.
CRUSHING: Piñas are cooled for 24 hours before the crushing process begins. The agave is crushed, in the traditional method, one ton at a time by a horse-drawn tahona wheel.
FERMENTATION: Depending on the season, Casamigos Mezcal ferments for 2–8 days before being distilled in covered copper pot stills. Casamigos is twice-distilled.
COLOR: Crystal Clear
AROMA: Fragrant herbal and fruit, with hints of smoke.
FLAVOR: Notes of smoke and black pepper lead to long silky finish.
RESTS: Up to 2 months.
HERITAGE: Produced in Oaxaca by a 4th generation family of Mezcaleros.
---
More from this collection